Knuth Grave and Headstone In Augusta Wisconsin
William Knuth Was Born in 1877 and Died in 1955 Minnie Wilhelmina Albertina Ban Knuth was born in 1881 and Died in 1942 the Knuth headstone
See Minnie and Bill's Obituaries below
First | Previous Picture | Next Picture | Last | Thumbnails

Gravestone for Both Minnie and William Knuth
Minne died of complications of Goiter (a thyroid disease that can be prevented with iodine supplements which are usually included in salt ) William died of complications of heart disease
You can also see obituaries of the Father (Carl Knuth) and Mother (Wilhelmine Lambrecht Knuth) here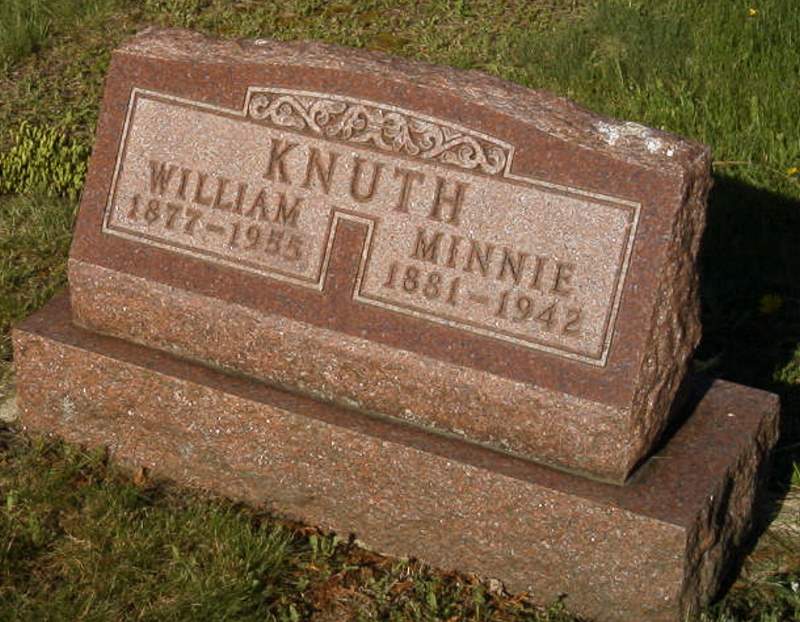 You'll find the gravestone in East Lawn Cemetery in Augusta Wisconsin
Some of their kids married Sperbers in Augusta Wisconsin, Some of their kids married Grams in Augusta Wisconsin, Some of Their Kids Married a Moen in Augusta Wisconsin, Some of their Kids Married a Jungerberg, in Augusta Wisconsin, Some of their Kids Married a Match In Suauga 0 The Town is all Related
The obituary of Wilhelmina Albertine Bann Knuth
The Augusta Union. Dated Thursday, May 1942 - Augusta Newspaper later know as the Augusta Area Times
Wilhelmine Albertine Bann, daughter of Mr. and Mrs. Fred Bann was born April 243 1881 in West Prussia Germany.
At the age of three, her parents moved to this country settling in the vicinity of Augusta. Her baptismal vow of loyalty to her Savior was renewed at confirmation in 1893.
In 1903 she entered holy matrimony with Mr. William Knuth, with whom she lived happily for over 40 years.
During the last two months she endured bodily suffering for the relief of which she submitted to an operation of Saturday. However, the Lord saw fit to relieve her of all suffering at once and gathered her home.
She is deeply mourned by her husband, four sons and four daughters: Margaret Sperber of the Town of Bridge Creek, Mrs. Adela Sperber of Cadott, Mr. Albert Knuth of Augusts, Mr. Erwin Knuth of Augusts, Mrs. Ester Moen of Augusts, Herbert and John at home. Her aged mother Mrs. Fred Bann of Augusts and 13 grandchildren, one brother Mr. William Bann of Stanley and one sister. Mrs. Lena Smith of Augusts. One daughter Theresa died in Infancy.
Their earthly family circle is broken but the heavenly circle is slowly being gilled. May God grant that we may be numbered in the holly circle through Lord Jesus Christ She had attained the age of 61 and 13 days.
The obituary of Wilhelm (William) Fredrick Knuth
William Knuth listed as Wilhelm Knuth on his wedding date on January 8, 1903 at Grace Evangelical Lutheran Church in Augusta, Wisconsin.
Funeral Services for William F. Knuth, who passed away at the home of his daughter, Mrs. Margaret Sperber Saturday morning, October 27, 1955 following a stroke on October 15, 1955, were held at Grace Lutheran Church at 2:00 p.m. on Tuesday, November 1st with Pastor E. G. Schedler officiating. Burial was in East Lawn Cemetery.
William Fredrick Knuth, son of Carl (Charles) and Wilhelmina Knuth was born in Bridge Creek on January 5, 1877. He attended school in Bears Grass and the Dells schools.
On January 8, 1903 he was united in marriage to Wilhelmina Bann and to this union nine children were born.
Mr. and Mrs. Knuth lived their early married life in Bridge Creek and Otter Creek. In the year of 1906 they purchased a farm northwest of Augusta, Wisconsin, where they continued to live until 1942, when Mrs. Knuth passed away.
For the past two years Mr. Knuth has made his home with his daughter, Mrs. Margaret Sperber of Augusta, Wisconsin, where he passed away early Saturday morning, October 29th, at the age of 78 years, nine months and 24 days. He was preceded in death by his wife, one daughter and two brothers.
Mr. Knuth was a member of the Dells School Board for 17 years.
Bill, as everyone knew him, was a kind and loving father and was always willing to give a helping hand to everyone. His presence will be greatly missed by family and his many friends, young and old.
He is survived by eight children: Mrs. Margaret Sperber, Augusta, Wisconsin, Adela, Mrs. Ed Sperber, Cadott, Wisconsin, Albert, Ervin and Mrs. Esther Moen, Augusta, Wisconsin, Mrs. Arnold (Agnes) Matz, of Foster, Wisconsin, Herbert of Eau Claire, Wisconsin, and John of Augusta, Wisconsin. by 23 grandchildren, and three great grandchildren; five brothers, Edward Knuth of Augusta, Wisconsin, Theodore Knuth, Great Falls, Montana, Herman Knuth of Saca, Montana, Emil Knuth of Canada, and Martin Knuth of Crookston, Minnesota; four sisters, Mrs. Anna Stubbe of Kramer, North Dakota, Mrs. Howard Hanby, Merrillan, Wisconsin and Mrs. Fred Gessner and Mrs. Edgar Rubbert of Upham, North Dakota; Axel Willman, who has made his home with the William Knuth family for the past 18 years. His many friends join the family in mourning his passing.
Wilhelm Friedrich Knuth, son of Carl August Knuth and Wilhelmine (Lambrecht) Knuth was baptized on January 28, 1877 at St. Peter's Evangelical Lutheran Church, in Augusta, Wisconsin. His sponsors were Friedrich Zank, Ludwig Luchees and Ernestine. He was confirmed at St. Peter's Evangelical Lutheran Church in Augusta, Wisconsin on August 9, 1891.
Keys:
Obituary, Obit, Bann, Knuth, 1955, 1942, Family, Augusta, Headstone, Wisconsin, Fall Creek, Wilhelmine, Albertine, John, Ester, Moen, Sperber, Margaret, Adela, Bears Grass, Dells, Mill, School, Board, 1942, 1955, born, passed, died, 1977, 1903, Grace, Evangelical, Lutheran, Church, Rubbert, Willman, Axel, Hanby, Fred, Gessner, North, Dakota, Canada, Montana, Minnesota, Mourning, Passing, son, daughter, funeral, grave, stone