The Obituary of Carl Knuth and the Obituary of Minnie Knuth (Wilhelmine Luetke Lambrecht Knuth)
From the Augusta Wisconsin Eagle 1913. Both parents grew up in Posen Prussia
All maps can be seen on the Augusta Web for Augusta Wisconsin. Many of the children and grandchildren went to the Augusta Wisconsin Dells Mill School
You can see the whole Carl Knuth Family, with birth and death dates, including spouses, siblings and children on the Carl Knuth Portrait Page
The Knuth Family migrated from Posen Prussia to America, to Wisconsin, you can see a map of the US United States Wisconsin State on the Augusta Wisconsin Dells Mill Wisconsin Site at the bottom of the page - click the image to see it full size on the Wisconsin Dells Mill Site
Obituary of Carl Knuth

Mr. Carl Knuth was a native of Germany and was born February 10, 1837 in Wirshita Garbowe, Province of Posen, Prussia, the German Republic and later Poland
[Author's Note: The Province of Posen (German: Provinz Posen, Polish: Prowincja Poznańska) was a province of Prussia from 1848–1918 and as such part of the German Empire from 1871 to 1918. After World War I, beginning in 1919 and continuing to now, 2010, Posen is a part of Poland]
He came to America in 1862 and shortly after his arrival he enlisted in Company K, 32nd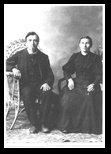 Wisconsin Infantry and received an honorable discharge in 1865 at the close of the [American Civil] war. At the close of the rebellion he settled in Manistee Michigan where he lived three years coming to Augusta [Wisconsin] in 1868 settling on a farm in Bears Grass Valley. He continued the vocation of farming until his death, and successively resided on farms in the Bears Grass Valley, Thompson Valley and [Augusta Wisconsin] Dells to his late home in the town of Bridge Creek [in Eau Claire County Wisconsin]

He was married to Minnie Lambert of Augusta on July 8, 1873.
[Authors Note: Carl Knuth was 18 years older than his wife – Minnie died in 1942 – almost 30 years after Carl died. Carl was 36 at marriage, Minnie was 18]
Unto them were born thirteen children, nine sons and four daughters all of whom survive except one son who died in infancy. They are: Henry Knuth, Will Knuth, Martin Knuth, Alma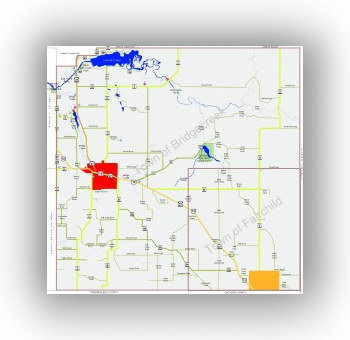 Knuth and Rufeina [Rufine] Knuth of Augusta; Mrs. Fred Stubbe of Kramer, North Dakota, Mrs. Minnie Fredrick of Gascow, Montana, Charles Knuth of Newberg North Dakota; Edward Knuth and Amiel Knuth of Tribune, Saskatchewan, Canada; and Ted Knuth and Herman Knuth of Saco, Montana
Mr. Knuth was modest, and retiring in disposition, upright in character and was held in the highest esteem by all who formed his acquaintance during his long residence in the country. The family have the sincere sympathy of a large circle of friends in their bereavement.

[ Newspaper clipping ADV - $1.00 and $1.25 Men's caps Saturday and Monday, 75 cents at Marcus Cash Store]
From the Augusta Eagle, a newspaper published in Augusta Wisconsin, December 1942
Wilhelmine Knuth –nee Wilhelmina Lambrecht (aka Minnie)– Mother of William Knuth
[Author's note: The wife of William Knuth, Wilhelmina Albertina Bann Knuth, died age 61, preceded his mother in death [Wilhelmine Lambrecht Knuth – died aged 86]. Both died in 1942. It was a bitter year of sorrow for the Knuth Family of Augusta Wisconsin]
Daughter of William Lambrecht and Henrietta Luetke, was Born December 14, in 1855 in Bromberg Germany.
[Authors note: Also a province of Posen Germany – See above – in 1871 it was on the Prussia Empire / Russia Frontier]
Here she was baptized, attended school in Foster and was confirmed by Pastor Schmidt.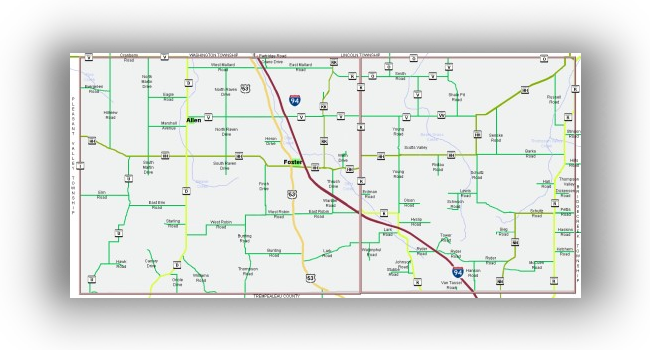 On March 25, 1871 her parents with seven children left for this country and arrived in Augusta [Wisconsin] on the fourth of July [1871 - Independence Day] following, one sister having been born on the ship. A number of friends and relatives were already living in this locality.
For several years she worked as a servant until her marriage to Carl Knuth on July 6, 1873. They made their home, at various times in the Town of Lincoln, Otter Creek, Bridge Creek and the city of Augusta. At one time their home near the Dells [Mill] burned to the ground and the family barely saved their lives. The deceased sum up their married life in these words,
"Thus we journeyed together for forty years in love and loss, adversity and care, through the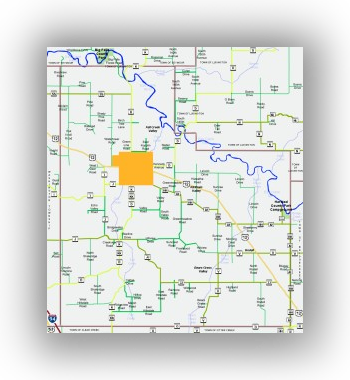 gracious help of the Lord."
Mr. Knuth, who had served his country in the Civil War, passed away in 1913, leaving the widow and twelve children of who ten mourn the passing of the mother.
Sons Henry Knuth and Charles Knuth preceded the mother in death.
The living children are William Knuth of the Town of Bridge Creek; Mrs. Anna Stubbe of Kramer, North Dakota; Edward Knuth of Augusta; Theodore Knuth of Dodson, Montana;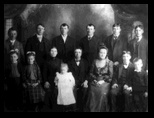 Herman Knuth of Scaco Montana; Emil Knuth of Tribune Saskatchewan, Canada; Mrs. Minnie Fredrick of Augusta; Mrs. Alma Gessner and Mrs. Rufina Rubert of Deep, North Dakota; and Martin Knuth of Crookston, Minnesota.
Besides 56 grandchildren, a large number of great grandchildren, one brother, Martin Lambrecht of Augusta, two sisters, Mrs. Henrietta Watenphul of Augusta and Mrs. John Gerike of Minneapolis and a large circle of relatives and friends survive here.
In the past three years increasing weakness showed itself and on Saturday, December 5, 1942 she was called to rest as she wrote, "The Lord grant me a long life and thereafter a blessed end in Christ Jesus."
She reached the age of 86 years, 11 months and 21 days, on the earth, but lives where time is no more and there is no more weakness death sorrow or weeping. Funeral services were held Wednesday, December 9, 1942 at 1:30 from the home and at 3:30 in the Grace Lutheran Church
You can see the location of the Knuth Family Homestead on this Wisconsin Map on the Dells Mill Site in Augusta Wisconsin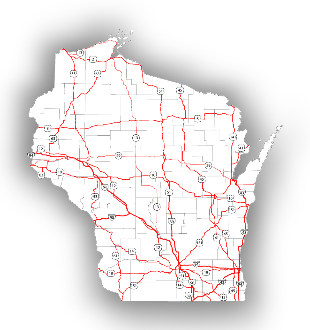 ---------------------
These Articles transcribed by dennis knuth
KEYS:
obituary, knuth, luetke, lambrecht, augusta, eagle, maps, web, grandchildren, mill, birth, death, 32nd infrantry, spouses, siblings, portrait, migrated, map, us, united, states, state, bridgecreek, page, mr, native, germany, born, february, 1837, wirshita, garbowe, republic, poland, provinz, polish, prowincja, poznanska, emil knuth, 1918, world, 1919, part, 1862, usa, arrival, enlisted, infantry, discharge, 1865, american, civil war, war, bridge creek, rebellion, settled, manistee, michigan, lived, years, coming, 1868, settling, farm, vocation, farming, farms, bears, grass, thompson, valley, bridge, creek, eau claire, lambert, authors, german, 1942, 1848, marriage, sons, daughters, son, infancy, henry, will, alma, eau, claire, county, rufeina, rufine, mrs, fred, kramer, dakota, minnie, fredrick, gascow, montana, newberg, amiel, tribune, saskatchewan, ted, herman, saco, disposition, character, acquaintance, augusta eagle, family, sympathy, bereavement, dells mill, saturday, monday, cents, marcus, cash, store, newspaper, published, december, wilhelmina, wife, albertina, bann, age, wilhelmine, aged, died, year, sorrow, daughter, henrietta, 1855, bromberg, province, posen, grand children, prussia, empire, russia, frontier, baptized, attended, school, foster, pastor, schmidt, otter, clear, march, parents, arrived, grace lutheran, 1871, independence, sister, ship, relatives, locality, servant, 1873, various, lincoln, city, burned, bears grass, lives, deceased, chippewa valley, married, served, civil, company k, 1913, widow, united states, mourn, mother, living, children, william, anna, stubbe, edward, theodore, dodson, carl, charles, scaco, emil, gessner, rufina, rubert, north, crookston, minnesota, besides, brother, martin, sisters, watenphul, john, gerike, minneapolis, circle, friends, survive, wisconsin dells, months, earth, canada, otter creek, weeping, funeral, services, wednesday, grace, lutheran, church, lord, location, long life, homestead, dells, site, america, wisconsin, articles, transcribed, dennis