Family Formal Portrait of the William Knuth Family
Albertine Bann Knuth is absent, she was deceased (1942). Photo circa 1943. Only after Minnie Knuth died, did the family realize that a family photo was necessary to remember the way things were. The William Knuth Family See the home page for full information.
First | Previous Picture | Next Picture | Last | Thumbnails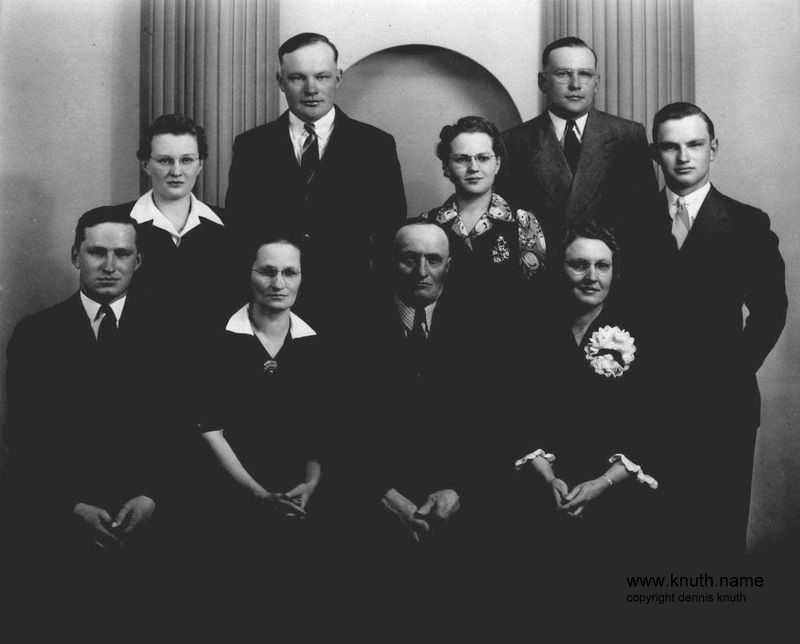 The William Knuth Family of Augusta Wisconsin. The Family settled the homestead farm near Augusta Fall Creek Fairchild Cadott and Osseo in the Town of Bridgecreek in Eau Claire County Wisconsin.
In the Photo:
Top Row: Ervin Knuth and Albert Knuth
Middle Row: Agnes Knuth, Esther Knuth, John Knuth
Bottom Row: Herb Knuth, Margaret Knuth, William Knuth, Adela Knuth
Some family records can be found in the Archives of Grace Lutheran Church in Augusta Wisconsin and St Peters Lutheran Church in Bears Grass Wisconsin
Keywords:
Knuth, William, Albertine, Bill,. Augusta, Bann Albertina, Lambrecht, Luedke, Margaret, John, Adela, Esther, Herber, Albert, Al, Knuthe, Nooth, Newt, canoot, Daila, Agnes, Kanut, Kanute, Wis, WI, Cadott, Fall Creek, Fairchild, Osseo, Eau Claire, Erv, Ervin