Knuth
This William Knuth Family was the 1st Fully American Generation of Immigrant Stock
Decedents of Immigrants Carl Knuth and Wilhelmine Lambrecht from Germany / Poland / Prussia / Scandinavia. The family grew up in Bears Grass Wisconsin near Augusta and Fall Creek Wisconsin
Descendants with this Knuth sir name are not wide spread in America. The preferred family pronunciation of Knuth is with two syllables as 'ka nooth' ('ca newth') or 'ka noot' ('ca newt'). The name is of Germanic / Scandinavian / Norse origin and a variation is Knutson (ka noot sun). To pronounce Knuth as one syllable with a silent 'K' as 'nooth' ('newth') or 'noot' identifies you as a stranger; not of Northern Wisconsin origin.
Photos are continually being researched and documented - we can use your help if you have information - please register with us
See our Photo Galleries Index. The photos are scanned from the John Knuth Family album - Sons and Daughters of William Knuth, Grand sons and Grand daughters of Carl Knuth, Great Grand sons and Great grand daughters of Johann Knuth
Want to know more? See the Augusta Wisconsin Histories Page on AugustaWI.com. Augusta Area, Bridgecreek and More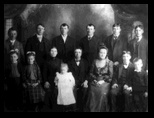 The children, spouses, parents and siblings of the Carl Knuth Family and the William Knuth family
The page includes family names and dates of birth as early as 1811. Perhaps the best place to start when researching your heritage.

The mother Wilhelmina Albertina Bann Knuth (Minnie also spelled Wilhelmine Albertine) was born April 24, 1881 at West Prussia, Germany deceased c. 1942
You can see Wilhelmine's Obituary Wilhelm's (William) Obituary on the gravestone photo page
From a family of 8

You can see this image full size on our Family Formal Portrait Index Page

As happens in many families - formal family portraits are not taken until some one dies. This is why Wilhelmina was not in this photo

Left to Right -
Top Row: Ervin Knuth b. 8/26/1912, d 5/12/1979; Albert Knuth b. 7/17/1908, d. 1/2/1968;
Middle: Agnes Knuth b. 9/15/1918, d. 8/9/1984; Esther Knuth b. 9/3/1914. d. 12/13/1999; John Knuth b. 4/8/1925, d. 6/9/2012
Bottom: Herb Knuth 9/15/1922, d. 12/27/1990; Margaret Knuth b. 2/4/1904, d. 12/25/1987; William Knuth, Father, Adela Knuth b. 9/19/1905, d. 2/20/1998

Some of this family can be seen in its youth as students of the Augusta Wisconsin Dells Mill School Class of 1922
Date of Family Photo Unknown c. late 1940's? Bill and Minnie were married January , 1903

William Knuth's mother out lived Minnie Bann Knuth, Bills' Wife. Both Died in 1942

Both Bill Knuth's Wife and Mother had the same first name, Wilhelmine




| | |
| --- | --- |
| | |
| Most of the family was confirmed in St Peters Lutheran Church in Bears Grass. You can see and interior of the church here | Baby Theresa was first born but she did not survive. |





See the William Knuth and Wilhelmina Bann Marriage Certificate

Minnie Knuth passed on in 1942, William Knuth in 1955. Minne died from complications of a goiter, Bill Knuth from complications of heart disease

| | |
| --- | --- |
| | |
| The Bill and Minnie Knuth Gravestone in the East Lawn Cemetery in Augusta Wisconsin | Also see - The Farm House Deconstructed - Home the Pioneer Farmhouse was used in the 19th and 20th Centuries |
| | |
| | |
| New! 1949 Knuth Dairy Farm in Augusta Wisconsin | New! Knuth Reunion Page |

The Homestead Farm as it exists today can be seen on the Rodell Wisconsin Site - Click the image to see it full size. The farm is on country road V between Rodell and the Dells Mill Museum near Augusta, Fall Creek, Bears Grass and Foster Wisc
The Knuth Family / Wives and their children
The Sperbers: Alvin and Ed, brothers, married Knuth Sisters
| | | | |
| --- | --- | --- | --- |
| Ervin Knuth / Wilma | Albert Knuth / Irma Klatt | Agnes Knuth / Arnold Matz | Esther Knuth / Ed Moen |
| David Dale Arlen Charlie William Lora Kimberly | Monty Algean | Bill Sonja Diane Debra | Richard |
| | | | |
| John Knuth / Emogene Grams | Herb Knuth / Betty Lou File | Margaret Knuth / Alvin Sperber | Adela Knuth / Ed Sperber |
| Sherri Dennis | Dean Karen | Janet Arlene Alice Marilyn Harold Eleanor | Kenny Donald |
| | | | |
| John Knuth / Ardith Brown Hilmanowski | Herb Knuth / Janice Johnson Solie | | |
Carl Knuth (aka Charles Knuth) born circa 1840 / married to Wilhelmine Luetke Lambrecht Knuth nee Lambrecht (a variation of Lambert or Lampert)
Carl and Minnie lived in Augusta Wisconsin
Carl Knuth was Born in Posen Prussia - Minnie was Born in Bromberg Prussia - See their Obituaries for More Information - Both areas became part of Poland after World War I through now, 2010
German: Provinz Posen, Polish: Prowincja Poznańska
Carl was 18 years older than his wife
Carl and Minnie Knuth were the Father and mother of William Knuth
There were a total of 13 Children from this marriage (see their obituaries for information about the surviving family members)
You can see the Whole Carl Knuth Family, birth and death dates, including spouses, siblings and children on the Carl Knuth Portrait Page
The family led lives in Bears Grass Wisconsin, Lost the farm and moved to what is now the Dean Solie farm (Carl cleared the area and built the farm) Hank Knuth was William Knuth's Oldest brother with daughters Sadie and Rosella took over the farm after Carl Died, run the farm, Sadie married Solie, Rosella married Erdman, went together 20 years until Lucky Erdman quit drinking

Knuth Family Photo Albums - The photos are at least 50 years old. Some over 150 years old - many are unidentified - Help Out!
Carl Knuth and his Wife - nee Minnie Lambrecht

Obituary of Carl Knuth
Augusta Union Newspaper circa 1913

Obituary of Minnie Luedke Lambrecht Knuth from the Augusta Union Newspaper in 1942


Carl Knuth and his Wife Minnie - Father of William Knuth and Grand Parents of the Family. Carl may have been known also as Charles Knuth due to record errors by the US Government. You can see more information about them on their obituaries

Also - see their information about parents, children an siblings on the

portrait page




The Knuth Family Photo Albums were created by William Knuth and Wilhelmina Albertina Bann Knuth. The Albums were inherited and Added to by John Knuth. Names and identities are from the memory of John Knuth age 75 to 85. Some of the names may not be correct because these memories are clouded by the mists of time. Please register if you have any updated or corrected information.
The History of the Knuth Family is closely intertwined with the History of Wisconsin and the History of Augusta Wisconsin
You can see the Augusta Wisconsin History Index Page HERE, Augusta History in 1956 HERE and remembrances of the centennial in 2006 HERE
New: An American Civil War Diary by 'Ole Kittelson Leigram' b. 1839. Kittleson and Carl Knuth both served in the same unit in the American Civil War. It is not known if they were acquaintances but one would assume that they may have encountered each other. Ole was of Norwegian descent with Carl Knuth was of German descent. Both were immigrants in an English speaking Army. Both would have experienced the same events and agonies in the American Civil War. Kittleson served in the 15th Infantry (primarily Norwegian speaking) and Carl Knuth in the 45th Infantry (primarily German speaking). Both were mustered-in in Rio Wisconsin in 1862. Read the Diary of what your Knuth ancestor may have experienced in the Civil War
Want to know more? Also check out the History Page about
Rodell, Wisconsin Here

You can see the location of the Knuth Family Homestead on this Wisconsin Map on the Dells Mill Site in Augusta Wisconsin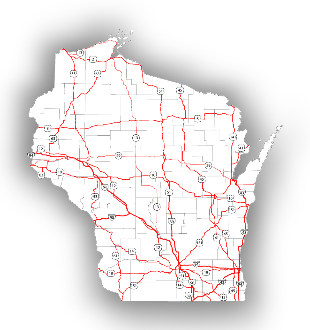 Keys:
Knuth, John, Albert, Erv, Agnes, Adela, Herb, Margaret, William, Carl, Augusta Wisconsin, Minnesota, Canada, Augusta, Wis, WI, Fall Creek Wi, Bears Grass, Dennis, Sherri, Dean, Karen, Knuth, Augusta, Wisconsin, family, wrote, Donald, interview, family, tools, don, home, page, machine, programing, art, program, book, write, computer, Chicago, programmer, literate, comp, digital, invented
Also see the site of the Photo and Video Log for CoisaCosia